Holocaust Remembered Exhibit
Holocaust Remembered is an unique Holocaust Exhibit that tells the personal stories of SC Survivors and Liberators. This exhibit was created to honor the memories of the survivors and victims of the Holocaust. The lesson in teaching the Holocaust is to remember.
Thousands of school age children have viewed the Holocaust Remembered Exhibit as well as given the opportunity to hear personal testimonies from survivors. Holocaust Remembered Teacher Manuals are available for use in the classroom as a resource to teaching the Holocaust. The Teacher Manuals are available on the website.
The "Holocaust Remembered" portable exhibit which can be viewed on site, on line or by power point can also be shown in your schools, churches, and/or clubs.
The permanent exhibit is now available for loan as a portable light weight option. This portable exhibit consists of 12 two sided stands with 2 panels per stand. Please review the loan form linked below. All forms must be completely filled.
Portable Exhibit Schedule
If interested in bringing the exhibit to your church or organization, please contact Barry Abels at barrya@jcccolumbia.org
To book a School Tour, please contact: Cheryl Nail at 787-2023 or by email cheryln@jewishcolumbia.org
The Holocaust Remembered Exhibit is on display for several weeks in the Spring of each year. Located in The Katie and Irwin Kahn Jewish Community Center 306 Flora Dr. Columbia, S.C. 29224 The public is invited to view this exhibit.
Private Tours are encouraged and are available for school and all other interested parties. Contact: The Katie and Irwin Kahn Jewish Community Center 803 787-2023
This exhibit has been made possible through the partnership of the Columbia Holocaust Education Commission, The SC State Museum, The Columbia Jewish Federation, and The Katie and Irwin Kahn Jewish Community Center.
Holocaust Remembered Exhibit at the South Carolina State Capital Lobby
Holocaust Remembered Exhibit at the Columbia Metropolitan Convention Center with Students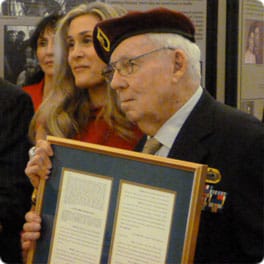 Moffatt Burriss, Holocaust Liberator, receiving a Legislative Proclamation at the State House Lobby
Exhibit Panels (PPT Version)
Click on the links below to download the presentations.
DOWNLOAD FULL PRESENTATION